Updated

20 November 2008
News
The extension of the L3 line between the Canyelles and Trinitat Nova stations came into operation on 4 October 2008, with a new 1.8-kilometre tunnel section and two new stations, Roquetes and Trinitat Nova, which it is estimated will provide service for 4 million journeys a year. The initiative included the construction of two new parks in the area around the new stations, which has allowed this space to be recovered for the public.
The work entailed an investment of €156.5m.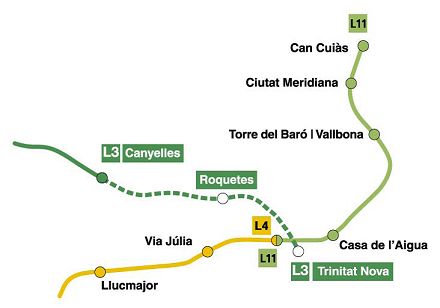 The new Roquetes station is the deepest station in the entire
metro network, located at a depth of 56 metres. It is connected to the outside by two huge cylinders, of 18 and 24 metres, and it has seven large-capacity lifts to aid movement between the entrance halls and the platform.
The Trinitat Nova station is part of a large interchange, together with lines L4 and L11 of the metro. It has been specially designed with translucent elements and materials in order to allow natural light to reach the platform area. Consequently, the main facade, which stands at the level of the new park, offers a glass structure that works as a huge window.