Updated

21 March 2006
News

– Barcelona metro
The European Investment Bank is providing a € 650 million loan to IFERCAT (Infraestructuras Ferroviaries de Catalunya) for the construction of Barcelona metro line 9 . The new underground line extends over 43 km and has 47 stations within the metropolitan area.
It is the second loan provided by the EIB to the centerpiece project of Barcelona's transportation system connecting metro, bus, the suburban rail, the international airport and the high-speed rail lines between Spain and France. EIB's significant support to the project totals € 1.3 billion on a total estimated cost of € 2.25 billion.
Line 9 will cross the metropolitan area in a semi-circle inter-connecting six municipalities. At the northern end it will branch into two lines, providing access to 335 000 additional inhabitants. At the southern end it will cross the municipality of L'Hospitalet de Llobregat and branch towards the industrial area of Zona Franca, El Prat del Llobregat (adding 325 000 inhabitants) and the international airport.
Line 9 works started in 2003. activity is expected to start in 2007/2008 and the line should be in full activity by 2011. The line is expected to carry 90 million passengers a year.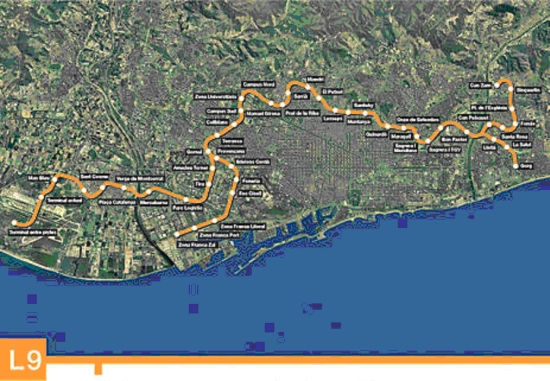 – Malaga metro

The European Investment Bank is also providing € 50 million to Metro de Malaga, a special entity set up to build the first part of a metro network in Malaga, one of the main coastal cities in Southern Spain.
This is the first part of an EIB € 260 million financing scheme. Metro de Malaga won a 35-year concession, promoted by the Autonomous Region of Andalusia, to design, build, finance and operate an 11.6 km light metro system. The concession comprises two lines, depot and maintenance facilities, a number of vehicles and intermodal facilities. The line is expected to open in 2009 and to carry more than 17 million people during its first year of operations.
Malaga has undergone a major urban transformation as result of economic and demographic changes. And the project will bring substantial economic and environmental benefits to this rapidly growing city: time gains for users, cost saving for car users shifted to the metro, cost savings from reduced bus service operations and reduced traffic in the city centre. This will help Malaga to improve its urban economy while maintaining its role of a major tourist centre.
www.metrodemalaga.info – www.eib.org – www.gencat.net