Updated

16 August 2011
News
"This is a new opportunity to put technology at the service of citizens, improve public transport and encourage its use", says the Minister of public work of the Murcia Region Jose Ballesta.
The Regional government in Murcia has teamed up with the
Mobile phone operator Vodafone Spain, to introduce an NFC-based public transport payment system.
Promoted by the Region's public transport authority Entidad
Pública del Transporte (EPT), the initiative allows Vodafone
customers to pay their bus travel by using their NFC-enabled
phone with contactless readers on all public buses in the regional fleet. NFC tags located at bus stops will also let passengersaccess up-to-date travel information including when the next bus is due.
José Ballesta, Minister of public works and planning in the
southern Spanish Region, said the system would allow "timesaving and better flow of passengers on city and intercity buses, thereby improving service quality for users".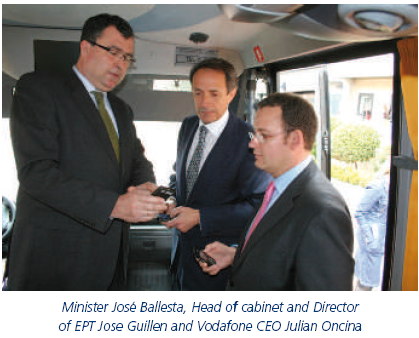 In the future, the project may be expanded to include access to sport, cultural and leisure facilities, to the region's libraries and to bike rental services, Ballesta added and concluded:
"This is a new opportunity to put technology at the service of citizens, to improve public transport and to encourage its use and ultimately, to continue investing in innovation and development of new software protocols to facilitate the thousands of Murcia residents who make daily use of the
regional bus network".
For more: www.eptrm.es

Contact: miguel.saez@eptrm.es