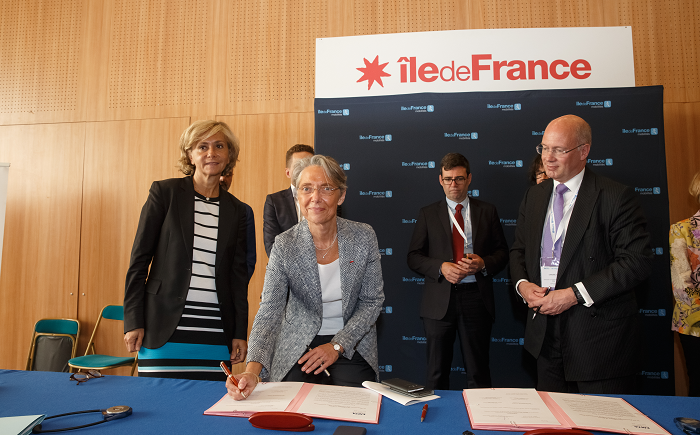 On June 8 members of European Metropolitan Transport Authorities gathered in a general meeting in Paris to celebrate the 20th Anniversary of EMTA. To seal this special meeting members of EMTA in presence of the national minister of transport in France Mrs Borne and Mrs Pécresse, president of Region Île de France, signed a Declaration of Intent on the promotion of cleaner public transport in urban areas and cities.
With this declaration EMTA members acknowledge the need to tackle harmful impacts from exhaust of carbon fueled transport vehicles by decarbonizing their local bus fleets. Dedicated to the topic of decarbonization in public transport and to mark the pinnacle of the 20th Anniversary meeting a conference was held to discuss the challenges from environmental impacts of growing car use and pollution from exhaust. Moderator professor Cristina Pronello, President of AMP in Turin and professor at UTC Sorbonne, displayed major critical impacts of air pollution from increase of car use on the life of citizens. Vehicle technology alone will not solve the problem, political determination and smart mobility strategies to change human behavior are needed too. Authorities need to think global but start acting local.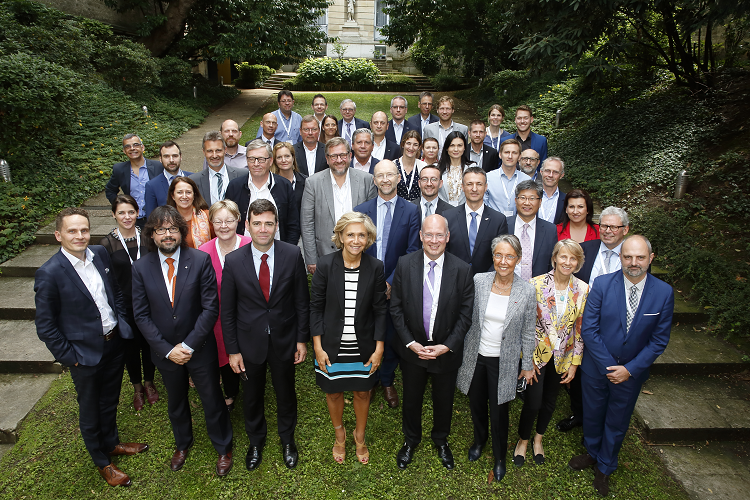 Attendants shared experience from pilots and local strategies to cope with institutional, societal and economic challenges for a successful introduction of low- and zero emission buses. Setting long term plan windows and robust financial strategies to transform fl eets and further a sustainable urban environment is key.
Introduction of electric buses in smaller settings were displayed by Per Gellert (Movia Copenhagen). Mr Young Tae Kim (International Transport Forum) stressed the need for collaboration and joint action with industry, business and governments. The ITF Decarbonisation Project helps decision makers establish pathways to carbon neutral mobility. The project is data-driven and aims to create a comprehensive quantitative model of global transport activity including all transport modes at all levels.
Mr Matthew Baldwin (Deputy Director DG Mobility) focused on European Commission's goals by underpinning the importance of effi cient public transport systems, the increased use of alternative energy sources and the acceleration of deployment of low and zero-emission vehicles. He outlined the requirements and European Commission's strategies that need to be observed in achieving the goals of the Paris Agreement on reducing substantive GHG emissions from land transport.
Madame Valérie Pécresse, president of Region Île de France unfolded ambitious plans to introduce 1000 electric buses in the high-density Parisien districts within two years for which a tender was launched in January. At the closing of the meeting Madame Pécresse signed the Declaration of Intent on behalf of Ile de France Mobilités side by side with dr. Jon Lamonte, CEO of Transport for Greater Manchester and chair of EMTA. A pleasant surprise was the signing by Minister Mrs Borne.
The signatories state that sharing knowledge and best practice is pivotal to help achieve the goals on GHG reduction in the Paris climate agreement. Public transport authorities therefore recognize they have a role to play in combatting detrimental effects of air pollution from tailpipe exhaust and from noise that jeopardize living conditions of residents causing multiple hazards for public health of millions of citizens and a shortened life expectancy. The use of carbonized fuel in public transport has to be turned around, driving forward clean mobility and accelerating the transition to zero and low emission vehicles.
A sustained high level of connectivity and economic competitiveness of cities demands a transition plan to achieve cleaner public transport, whilst also promoting active modes of travel. This declaration from authorities across Europe marks a strong call for action to start decarbonizing urban public transport as soon as we can.
In the declaration, the signatories call on their EU institutions and the governments of member states to take action and support the transport authorities in their strive to accelerate the inception and transition to implement zero-emission vehicles by sharing best practices on procurement, innovative expertise and fi nancial resources.
President of Region Ile de France Mme Valérie Pécresse, minister of Transports Mme Elisabeth Borne and dr Jon Lamonte, chair of EMTA placing their signatures on the Declaration of Intent.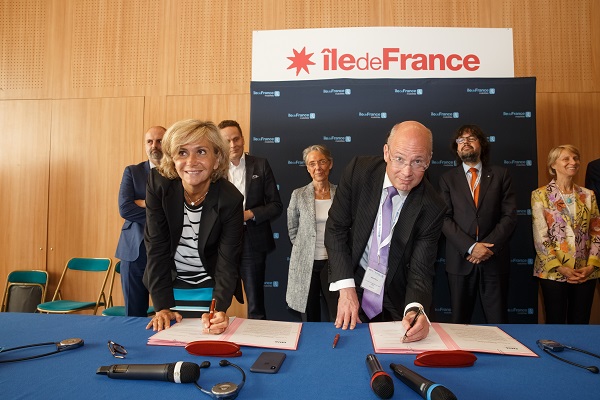 EMTA Press release
For information: