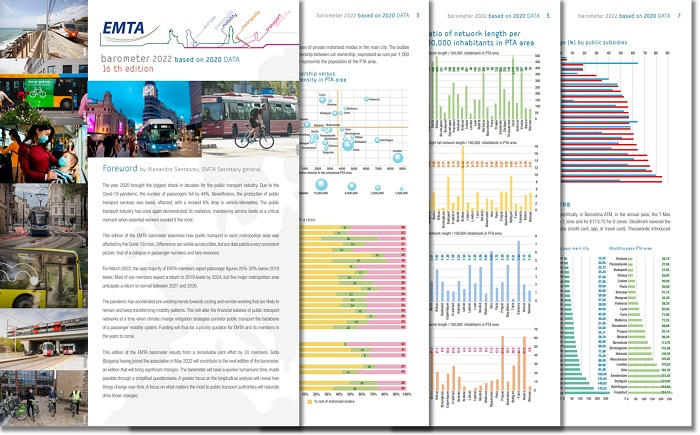 COVID-19 brought the biggest shock in decades for public transport. The latest EMTA barometer reveals the collapse in passenger numbers and fare revenues across 30 metropolitan public transport authorities.
Passenger numbers fell by 44% in 2020 versus 2019. Vilnius and London lost more than 60% of their passenger numbers; Amsterdam, Barcelona, Birmingham, Madrid, Mallorca, Manchester, Paris, Rotterdam-TheHague, Valencia and Vienna more than 40%; and the rest up to 25%.
In spite of lockdown and curfew measures, authorities and operators maintained high service levels and facilitated the mobility of essential workers for the rest of us! Vehicle-kilometres (VKM) only fell by 6%
Coverage of operational costs by the farebox fell as a result. Now in 2022, patronage in most metropolitan networks remains below 2019 levels. Funding will thus be a priority question for EMTA and its members in the years to come.
Read the 2022 edition here and find the previous editions in the publications section.