Updated

16 January 2008
News
Montreal, December 18, 2007 – Agence métropolitaine de transport (AMT) applauds the Quebec government's decision to grant the necessary financing for the acquisition of 160 double-decker commuter train cars, which will enable significant service improvements throughout the metropolitan region's commuter train network.
These new cars will make it possible to boost capacity by 70% on the current network as ridership continues to increase but trains are running at — or even above — capacity, and inaugurate service on the future eastern train line.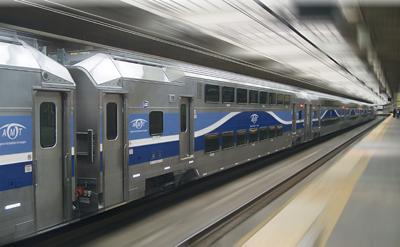 This order consists of 30 multilevel cars for the Eastern Train and an option on a total of 130 additional cars, as stipulated in the request for proposals. This represents an investment of 386 266 045$ (€279,9m) -Price subject to fluctuation in price of steel- , the largest commuter train investment ever made in Quebec.
These new multilevel cars offer cutting-edge technology and improved comfort to commuter train users. Each of the 160 cars will be equipped with 142 ergonomic seats, a roomy intermediate level between the two decks (with benches), bicycle spaces, and an audio-visual nformation
system provided with intercoms connecting the passengers to the train crew. All cars will be fully accessible to people with disabilities.
These cars will be commissioned progressively starting in the fall of 2009. The cars will be gradually put into service on the future Eastern Train line and on the five existing lines (Dorion-Rigaud, Blainville-Saint-Jérôme, Deux-Montagnes, Mont-Saint-Hilaire and Delson-Candiac).